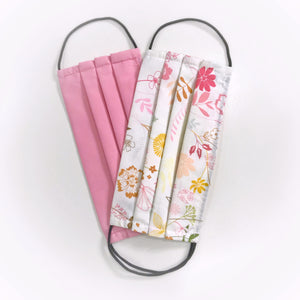 bearynaise
Fabric Face Mask 100% Premium Cotton (Pack of 2 Pink Printemps)
Only 2 seats left.
Regular price
$29.80
Fabric reusable mask
Made in Singapore
Size: 18cm x 8.5cm
Our masks are made according to the size of regular surgical masks, making it a comfortable fit for various face sizes.
Features:
100% Premium cotton from Art Gallery Fabrics
Elastic cord (colour may differ from pictures)
Metal nose wire
Filter slot
AGF Premium cotton is known for its exceptional premium cotton quality with unparalleled weave and thread count. The "hand feel" is incredibly soft and silky; when you touch them, you will feel the difference. It is breathable, able to disperse heat, and comfortable on the skin.
100% Premium cotton
205 High Thread count (133 x 72) - We use a fine and tight weave suitable for masks, and ideal to be washed over and over
Our fabrics are

OEKO-TEX certified

, using only safe inks for your skin and the planet
Shipping
There is a lead time of 2-3 working days before your items can be shipped out as we need time to sew them. 
Shipping options include:
Singpost normal mail (no tracking)
Private courier (with tracking)
------------------------------------------------

March 2020 message
Why we're making fabric masks:

As surgical masks are still difficult to get in the market, and number of Covid-19 cases continue to rise in Singapore, we have decided to launch our range of fabric masks.
This decision did not come easily. Firstly, we know that fabric masks cannot keep out the virus and were reluctant to promote the use of them. That was a few months ago when the situation was not that bad. A few months have passed and we still have not managed to buy any surgical masks for ourselves. When friends ask if we sold masks, we made a few for them and ourselves. But then we realised that there could be more people would like some fabric masks too! We then did a lot of online research to see if we can be convinced ourselves before making them for sale to others. 
Fabric masks are by no means a good substitute for surgical masks, however, they are good enough to catch your own cough or sneeze droplets. From a study by researchers, it has been shown that fabric masks do not outperform surgical masks or N95 masks, however, it is important to note from the study that a fabric mask is still better than no barrier at all. (https://academic.oup.com/annweh/article/54/7/789/202744)
The most important takeaway is, whether you're wearing a surgical mask, N95 mask, or fabric mask, the best practice is still to wash your hands regularly, and to not touch your face.
We strongly recommend changing to another clean fabric mask once it gets wet due to saliva, or once you have sneezed or coughed into it. If you have to be out, taking public transport etc, it will be good to have a pack of 4-5 masks in your bag to change into clean ones every 2 to 3 hours. Then when you get home, please wash and dry them thoroughly!
Once again, please do not be complacent, remember to wash your hands regularly, and not touch your face! We love you guys, and let's stay safe together! <3
---
Share this Product
---
More from this collection